Boxing for Off-Season Training
Go into any boxing gym and chances are there will be at least a few members that are hockey players, especially during the off-season. I still remember a guy I knew who was an enforcer in the Q training at the local boxing club in the summer. He would just spend the entire time holding a heavy bag with one hand, while absolutely feeding it with the other. It was both scary and hilarious. Everyone could pick him out as a "hockey fighter", but little did the true boxers know that there were a few other elite hockey players that trained there on a regular basis as well, but purely for fitness purposes.
Boxing is an unreal workout in general, but perhaps a little too exhausting during the regular season (sufficient recovery is necessary for optimal performance on the ice). However, in the off-season, the benefits are apparent. First of all, the type of activity is remarkably similar. Hockey is neither an aerobic or anaerobic workout, but instead is a combination of the two. Same with boxing.
Boxing is great for trimming fat while simultaneously building muscle. There is a wide variety of exercises in a single workout, ultimately allowing you to achieve a full-body workout every session. You don't need to know much about boxing to sign up at a local gym and you will be able to achieve this killer workout regardless of your skill level.
Specifically, most exercises are performed under your own body weight or against a heavy bag or other punching bag. One of the first things you will notice is an increase in your shoulder strength and endurance. This primarily stems from keeping your hands up and constantly punching things. Your entire upper body will see the benefits though. Similarly, constantly using your legs in an athletic position will make you feel the burn, too.
One of the most underrated aspects of boxing is the accessibility and affordability, especially considering the outcome. Most towns or cities have at least one boxing club and all the gear is affordable (especially compared to hockey!). Additionally, there is quite a variety in equipment, so finding something like the best boxing gloves for your particular needs can be quite easy.
One thing people often worry about is if they need to fight or spar. The answer is no. This should always be voluntary, and usually most of the people at a boxing gym do not spar or fight. That being said, if you get to the point where you are ready to begin sparring, it's challenging, exhausting, and fun. It's also way more safe than a lot of people think.
Lastly, if the boxing gym just isn't for you, there is lots of equipment that you can purchase for your own home that can help mix your workouts with boxing-specific workouts, too. For example, a heavy bag stand with added features for dips, pull-ups, etc. For more info on boxing equipment for your own home, check out tomatocanchamp.com.
At the end of the day, you really won't know if boxing is for you until you try it. If you're curious, stop by a local boxing club and ask questions. Trainers are usually more than happy to give you a tour and describe how things work at their club. You never know, it could take your game on the ice to a whole other level!…
Read more
All-Time Great Playoff Beards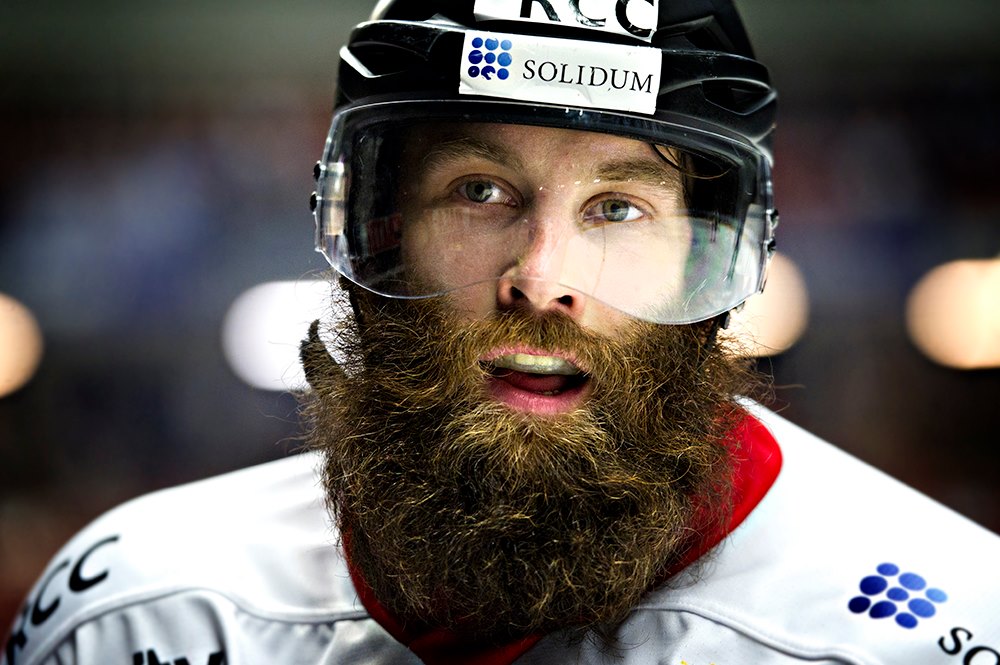 Beards and playoff hockey have been good companions for a long time. As a matter of fact, it has become NHL tradition to sport a beard during playoffs.
Over the years, hockey fans have had some great opportunities to enjoy spectacular displays of chin whiskers including Scott Niedermayer's gray tinged beard during the Stanley Cup finals against Anaheim Ducks. The elegantly bearded Kris Draper has had the opportunity to raise the coveted Lord Stanley cup over his head on four different occasions and Tim Thomas' tuft became a major attraction of the Boston Bruins' 2011 season. This makes it amply clear that teams that grow beard together win together.
The 2014 NHL playoffs have already seen elimination of some top bearded players with the ouster of Philadelphia Flyers at the hands of New York Rangers. In their honor here is a sneak peek into top 5 playoff beards of all times:
1. Zdeno Chára, Boston Bruins:
As it is commonly known, hockey players intend scaring their opponents with a fiery looking beard. Zdeno Chara's 6'9" tall frame makes his appearance as scary as it can get and the toughness of the look is complemented by the beard he flaunts. While it may seem superstitious that Chara's beard makes him win games, it stands for a fact that this tallest player in the NHL history was a part of the Stanley Cup winning squad in 2011 and made it pretty far in this year's playoffs. Other than a lawn mower, we'd love to know what he uses to trim that beast.
2. Brent Burns, San Jose Sharks:
Brent Burns' bushy playoff beard was as much in the news as the lack of it. Burns shaved off his beard for charity thereby raising over $20,000 for needy people. While the needy benefited from the funds raised, the fans got memories of a mammoth playoff beard to remember.
3. Mike Commodore, Carolina Hurricanes:
The thick, bushy and colorful beard of Mike Commodore stood out from the rest owing to its majestic personality during the Hurricane's run to Stanley Cup finals in 2006. Mike also sported gorgeous chin whiskers which were an object of envy for all his teammates.
4. Scott Hartnell, Philadelphia Flyers:
A man with tough-as-nails personality, Hartnell is known to have set the standards for NHL playoff beards with his magnificent mane. He had been an enforcer and his beard assisted him in remaining so by softening the blows to his chin when he removed gloves.
5. Scott Parker, Colorado Avalanche:
With his chin whiskers in full swing, Scott appeared scarier and more aggressive than ever in the role of an enforcer. Parker takes the right advantage of the fact that bearded men appear to have larger jaws which make them appear more intimidating.
Besides others, these players have carried the trend of sporting a beard during playoffs to become something more than just a fashion statement, thereby allowing for beard trimmers to make their way into the players' dressing rooms. Studies reveal that men who sport a beard appear scarier and more dominating than men without it. This translates into a necessity for the athletes to grow a beard to gain mental supremacy on ice. Besides making them appear ferocious, the common beard also instills a sense of unity among teammates who appear similar. For more on beards, grooming, and these sorts of manly acts (and thanks for the help in writing this article!) visit BeardInstitute.com.…
Read more
Fighting In Hockey
So you're a normal Canadian. You love your country, you think 50 degrees Celsius is perfect shorts weather, and you believe there are only two seasons: hockey season and the off season. You enjoy your summers, it's a good time to play some street hockey, made some homemade hummingbird food, and catch up on everything you missed from last season on hockeyfights.com. Ah yes, the website every hockey fan loves because it gives us a look at the most unique, gritty, and exciting play in sports.
A lot of folks think fighting in hockey is silly and barbaric, but it's as a part of hockey as end zone dances are to football. Let's take a look at just how ingrained into the sport of hockey fighting is.
History
While nothing is official, it is believed that fighting in hockey was introduced because of the relative lack of rules in the sport during the 19th century. With a lot of games going without refs, or with very little ref interference, disagreements were handled with your hands.
In 1922 the NHL implemented rule 56, which officially regulated fighting, or fistacuffs as it was called in the rule book. Instead of ejecting the player from the game, they received a five minute major, giving the other team a one man advantage for that five minutes assuming they also did not have a man in the penalty box.
Enforcer
In 1918, the NHL implemented the blue line. In doing so, they inadvertently encouraged more fighting with increased physical play. With the blue lines came legal forward passing in the neutral zone, which created an increased importance on puck handlers and an increase in physicality from the opposition. Because of this, teams added enforcers to protect those all important puck handlers. Enforcers play regular shifts, and aren't officially known as an enforcer, they have regular NHL position titles, but the only stat they regularly rack up is penalty minutes.
Penalty Minutes
Every time an NHL player fights, he has to sit out of the game in the penalty box. Players who spent their entire career as an enforcer can really rack up the penalty minutes. No player did that more than David "Tiger" Williams. Williams played in the NHL for 14 years, and racked up nearly 4,000 penalty minutes during that time. He averaged over four minutes a game, which is nearly two minutes more than the next closest NHL player (Dale Hunter). Williams was in the penalty box so much, that he has over 430 more penalty minutes than the No. 2 guy (Hunter), and that's with 500 less games played in Williams' career. To put that into perspective, if you work an eight hour day, you'd have to work three and a half months straight to work 4,000 minutes.
You can stay in the NHL a long time as an enforcer, and get paid well to do it, just be sure to know that you'll be using part of that good salary on false teeth.
Photo courtesy of Timothy J. Carroll.…
Read more
How to Play it Safe on the Ice
I've been a nurse for a while. Before that I was a billing worker. Before that, I was a coding specialist. Being a nurse, one can only imagine the things I have seen. It wouldn't be a day's work unless I saw something bloody or gory. Many injuries come and go throughout the day, and I think it would be safe to say that I have seen it all.
However, there is one sport that seems to make more people come into the office and that's hockey. Hockey, as many other sports, can be a very dangerous sport if not played with precautions and safety. Statistics show that the large majority of ice hockey injuries are caused by direct trauma during game play. Hard body checks, player collisions, forced collisions with the walls and ice, and direct blows from the puck, flying sticks and skates all add up to injuries and the play to the danger of ice hockey.
The most common type on hockey injury is a sprain or strain. If left untreated, a sprain can be overworked and become more of a complicated issue. The best treatment for a sprain or strain is the R.I.C.E. method: Rest, Ice, Compression and Elevation.
Besides the usual sprain or strain, many cuts and scrapes serious or minor are caused from ice hockey as well. Cuts and scrapes usually occur by the head and face, but using a helmet with a full-face shield will reduce the severity or frequencies of these type of injuries. Flying skaters, sticks or pucks, along with the many collisions or fights can be the reason for the many bruises and contusions found in ice hockey as well.
Hockey players are at risk for low-back injuries due to the flexed (forward) posture of skating and the frequent hyperextension (backward) stress. The hip joint and groin muscles are more likely to have injury due to the mechanics of the skating stride. Some of the most common soft tissue injuries in hockey players include a groin strain and a hip flexor strain. Off-season strengthening and dedicated stretching before and after practice are important to prevent these injuries.
Pushing the body further than what it is meant to be pushed, can result in many muscle injuries found in many sports, especially hockey. Most of the injuries are usually muscle cramps, intense pain caused by muscles involuntarily and contracting a muscle that does not relax. If the soreness continues, and a hockey player pushes themselves, and overtraining syndrome may result.
Hockey can also have some serious injuries such as concussion, whip lash, shoulder dislocation, or in some serious cases may even rupture their Achilles. Loosing teeth is something that is very common among hockey players as pucks or rough play may hit the players mouth and force them to spit up some teeth.
As a nurse, the best advice I can give to hockey players is to always wear safety equipment and properly train your body for its physical peak. Items like helmets, mouth guards, and protective pads can greatly reduce the risk of a serious ice hockey injury.…
Read more
Dentist's best friend: hockey players and their teeth
Ever since you were a kid, people probably told you sports were great for your health. Generally, that's most likely true. Our bodies are made for moving, and in a modern world with so few chances to move, sport is a great solution…unless you are a professional athlete. Believe it or not, professional sport is not the healthiest profession someone can choose. As a matter of fact, it is one of the least healthy professions you can imagine.
But wait, you say…I thought athletes were elite physical specimens?
That they are. However, being in outstanding shape doesn't mean perfect health.
The efforts athletes put on their bodies result in exhaustion and different injuries, including broken bones and muscles injuries, and other health hazards. So, if you want to stay healthy, play sports, but not in professional manner! Being a professional athlete means you will be out of the line up because of some serious injury at least once in your career – the stats are there to prove it. And there are plenty of athletes who had to finish their careers before they expected to because of some health problem.
One of the most vulnerable parts of the body when it comes to sports is teeth. Teeth injuries can happen in practically every sport, including individual ones. Of course, most hazardous are boxing and martial arts, but players are fairly protected, so it is not that dangerous.
Team sports where players are in close proximity to other players are much more dangerous. In the heat of the game, it is not uncommon for someone`s elbow, head, or some other body part to wind up smacking you in the mouth. In most sports, there really isn't enough protection around the mouth to stop anything bad from happening. A little plastic mouth guard won't do a lot when a puck is flying at your face at 100 mph! No wonder teeth get crushed.
One of the most dangerous sports when it comes to teeth is hockey. You may think players are fairly protected, with helmets and mouth guards, but when you put some other elements in the equation (i.e., a stick, puck, or fist), you will see it is not the case. Tell Sidney Crosby how safe your mouth is on the ice…see what he says.
First, hockey is a very rough game. Combine the rough and tumble game play with the incredible speed, throw in some fists, elbows, helmets and sticks, and you wind up with an injury waiting to happen. And finally, have you ever watched hockey game that ended without at least one scuffle? Face it, hockey would be a lot less interesting without good fights.
Moral of the story is, if you're a hockey player and you want to focus on keeping those pearly whites nice and sparkly, you could put in a lot of work for nothing. Many hockey players can obviously afford a great sonic toothbrush and many of them probably go the extra mile and get a great flosser from waterflosserhq.com – unfortunately, all that hard work can go to waste with one simple slapshot.
So, it's no wonder dentists like hockey! Hockey players are some of the best customers a dentists can have. Actually, the feeling is mutual. Thanks to advancements in dentistry over the past few decades, players missing teeth can get dentures, crowns, and various oral surgery to repair injuries. In many cases, you don't even know which players have fake teeth until they take them out to play a game. To all you hockey players out there, we hate to say it, but the only thing you need to do is to find good dentist, if possible, before you need it. Once you do, it will be the beginning of a beautiful (and perhaps expensive) friendship.…
Read more
Dryland Training
As a kid growing up dryland training was always the worst. Wind sprints, sitting on stationary bike for extended periods of time, throwing tires, plymoetrics and of course shooting pucks. I can't even imagine how many pucks I've shot from plexiglass in the offseason. Thousands if not tens of thousands of pucks.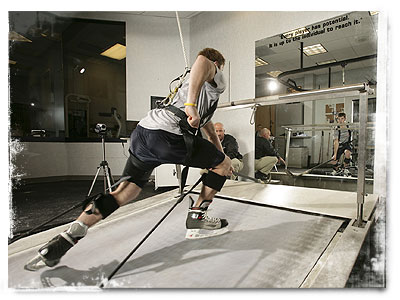 When you're on the ice the work is probably as hard if not harder. But it's never as grueling while you're on the ice. You're not thinking about how tired you are, you're simply playing hockey and personally I love playing hockey.
Offseason training, was an entirely different ball game. My coach used to say dryland training is where games are won. He used to break it up into three periods, the first period, the second period and the third period. Of course as you can imagine the first period was the easiest. You're fresh you're not breathing as hard, your legs are just getting into it. By the time the second period period rolls around you're pumping your legs up 50 flights of stairs in the old football stadium. Then the fatigue starts to set in. I can practically hear him saying "and when the fatigue sets in, that's when mistakes are made. If you can't get through this workout how're you going to get through a game?"
Since my playing days I realized two things; one I learned more during those sessions about myself then any other time. It's easy to battle on when you're having fun. It's not so much that quitting was an option but we all know, there is always room to slack off when you're working out. Drop to your knees for a split second. Walk exceptionally slow down the stairs, slow the running pace down. When you're training in the offseason that's all you want to do, there is nothing to look forward to except more offseason training and at that time it hardly seems like an ideal time to get in shape. The other thing I learned was how important it was to take care of yourself, and not just after a game. Since I gave up playing hockey I became an avid runner and I take recovery very seriously. I searched long and hard to find the best foam roller for runners to help ensure I help that process along as much as humanly possible.
When you're not feeling your best the last thing you want to do is take part in Dryland. I learned this the hard way as most of us do. Sore legs isn't an excuse to miss the workout session.
I never minded the 5am practices, or the late nights at the rinks, the long road trips that would eat up your entire weekend. Dryland training was always the worst of it.…
Read more
Street Hockey is Making a Comeback
When I was a kid we would play outside until the street lights came on and rush home dirty, sweaty and exhausted from an afternoon of hardcore playing. This was long before the days of cable TV, internet and social media. This got me thinking about some of the outdoor activities I used to do as a kid with my friends. One of my favorite things to do after school or on long summer days was play street hockey. Growing up in Florida left us without ice for the traditional game of hockey so we improvised and played on the street in front of our houses with some basic equipment.
You can't play a game of street hockey without have a proper net to catch the puck or ball in the goal. You can set up a goal a few different ways depending on what you have on hand. If you have a hockey or soccer net available you can absolutely use that, but if not you can line up two garbage cans spaced apart with a net laying over them. That was how we did it as kids and it served us just fine.
It's always better to be safe than sorry when playing any sport, but even more so when there are hockey sticks, hockey pucks and balls involved. It's definitely a good idea to wear protective padding, a helmet and a mouth guard to ensure that you are free from injury. The goalie will also need some extra padding and a helmet with a face plate since he/she will be having the most pucks lobbed at them. It's all fun and games until someone loses a tooth, right!
You can't play street hockey without pucks, balls or hockey sticks and there are many different options here as well. You may go with a traditional and use an ice hockey puck as it will certainly do the job. There are also pucks meant for street hockey that have little wheels on them to help them glide across the asphalt. If those aren't options, no big deal, just use a tennis ball or racquet ball as cheap alternatives that many families have in the garage already. You can use any standard hockey stick for street hockey easily.
The most important thing to consider when gathering your gear to play street hockey are the shoes that are going to be worn. You will most likely be playing on asphalt or concrete, so you will need an athletic type shoe that has a good amount of rubber tread to provide enough traction to chase after the puck/ball. You best bet for shoes to play hockey in would be running shoes, skate shoes or cross trainers. They are all very durable athletic shoes that will allow you to dip, dodge and shoot the street hockey puck into the goal a lot easier than some other types of shoes. I would avoid heavy shoes or boots since the cumbersome nature of them alone can interfere with game play, let alone the tread usually being grooved.…
Read more
Hockey: A Family Affair
I have so many rich memories of days and nights spent at the hockey arenas. My Dad always had ambitions to become a professional hockey player even trying out for a few recruiters that came to his high school to watch him play. Unfortunately, he never made it pro, but he did continue his love of hockey making sure to pass it on to me. He made sure to bring me along to hockey games as soon as I could walk and was old enough to enjoy the game.
My favorite memory is of the last hockey game I went to with my Dad. It was on New Year's Day which for me just increased my excitement since I was already able to stay up late the night before to celebrate. Not much sleep was had by me that night as I kept compulsively checking my watch to see if we were closer to leaving for the game. Finally I fell asleep just mere hours before we were to leave for the big game. The alarm on my digital wrist watch went off and I jumped out of the bed like a tightly coiled spring being released. I threw on the jersey that I made since both of my favorite teams were to be playing each other. I couldn't decide which one I would wear, so I sewed two together and made a Florida Panthers and Detroit Red Wings hybrid jersey. I was pumped and ready to hit the road.
After a three hour drive, my Dad and I made it to the hockey arena with enough time to enjoy a bit of tailgating before the game started. We broke out the grill on the tailgate of my Dad's big old truck and stuffed ourselves with all the usual sporting event snacks. Along with chowing down on food there is always a bit of banter back and forth between fans of each team. I really enjoyed this part and was a pretty big hit in my two jersey hybrid. In between the food and other pregame festivities I was of course compulsively checking my watch to see if it was close to game time.
The gates finally opened and we rushed to find our seats so that we could get settled in to enjoy the hockey game. My Dad had a little surprise for me during this particular game. We usually bought the cheapest tickets we could find because it wasn't about the seats; it was about the game and making memories together. This time however, he went all out and got us seats behind the class, which was something that I had asked for at many birthdays and holidays as a gift. I was so beyond stoked and immediately pressed my face to the glass trying to get a better look at the players that was skating by as they warmed up. I nearly fainted when my favorite player from the Detroit Red Wings high fived me through the glass. That day could not have been any better and it by far one of my favorite memories with my Dad.…
Read more
Die Hard Fan…
I remember sitting on the old dusty couch in my friend's basement with the big screen TV playing the hockey game. The game was coming to a close when the Hawks scored and everything turned into a slow motion silent film. My friends jumped up from the couch, mouths wide open, and hands waving all over the place. I joined in screaming to the point of exhaustion. All I kept thinking was, they won.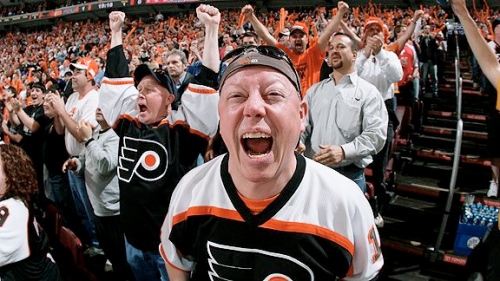 My excitement could not be contained and my face was in so much pain from smiling so much. We all hugged and high-fived one another before we took off for the stairs. We were greeted with more screaming from my friend's parents as they ran through the house screaming, "Hawks win! Hawks win!"
We are what you would call die-hard fans. We watch every game, record every game, and try to get tickets as often as possible. This time was better than every other though. The Blackhawks won the Stanley Cup Championship.
I could barely hold my composure. One of my friends was worse off than me. I swear I saw him shed a tear due to his extreme level of excitement. That is a true fan right there.
I remember feeling the rush of adrenaline skate through my veins and for the rest of the night I cheered for my team. The following morning I headed over to the nearest sporting goods store and invested in a pretty expensive jersey. The price did not matter to me; supporting my team did. I sped through the aisles looking for the perfect one and finally decided on a Patrick Kane jersey. I threw it on over my clothes and checked it out in front of a mirror. Perfect. Slipping it off, I remember booking it over to the register like I had grabbed the last one and a mob was after me.
I threw down the cash, grabbed my receipt and headed for the car. I put the jersey back over my clothes and wore that baby proudly for the next three days straight. I did not care one bit if someone thought it was gross. I wanted everyone in town to know who won the Cup and that I was a dedicated fan. Eventually I had to take it off and wash it of course. By then I was missing my sweaters, skirts, and such, but regardless I still supported the Blackhawks in their outstanding victory.
The night they won I went to sleep and dreamt about being the first Chicagoan to touch the silvery goodness of victory.…
Read more
The Necessities for Hockey
Like most sports, money can create a hole in a parent's wallet. Hockey is one of the many that takes a lot of equipment to get the game going, but the results are satisfactory for a kid learning the sport for the first time. The following is a list of equipment that is need to play the game.
Skates
Shin pads
Hockey socks
Hockey pants
Shoulder pads
Elbow pads
Jersey
Helmet
Gloves
Neck guard
Mouth guard
Hockey Stick
The twelve items may not be the only investments a parent makes when enrolling their child in the game but they are the majority of what is necessary to be out on the ice. The equipment listed can last anywhere from $15 to $200+.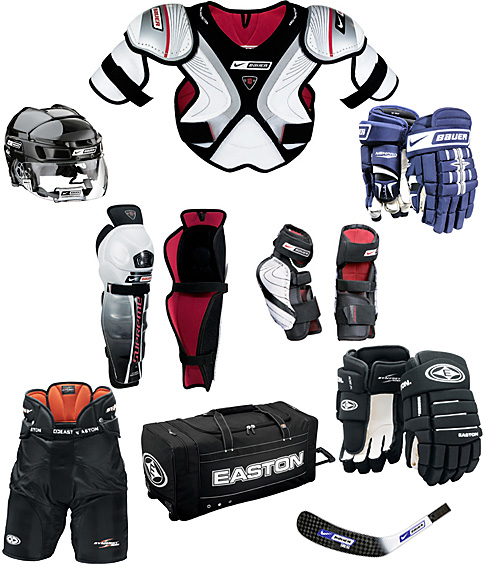 A few places to consider making purchases like these are Dick's Sporting Goods Store (in store or online), Hockeyworld.com and Icewarehouse.com. During certain times of the year the stores will run sales on specific items so that does help cut costs but most of the items will run at their standard price.
The game is a great learning experience for kids and the money spent will be worth every penny when they walk off the ice feeling accomplished as a person and a team player. This brings about a different level of equipment necessities kids need to have to start the game.
The following are the secret ingredients for a positive hockey experience:
Determination
Dedication
Responsibility
Hard-work
Passion
Heart
Cooperation
Teamwork
Focus
Good sportsmanship
Being involved in a sport goes beyond your typical inanimate objects and plays on a person's personal characteristics. If a kid does not have the previous list of secret ingredients they will learn them fast when out on the ice training.
Some may refrain from letting their kid play the game because of the popular notion that hockey is all about throwing down the gloves and having an all-out brawl on the rink. That should not be something that deters you from letting your child experience the game. All sports involve a battle in some form or another, but by not allowing your child to experience the game is letting them sit back and lose out on an opportunity that could potentially shape their future. Shed a little more than a few bucks and let your kid learn to love the game just as much as you love to watch it.…
Read more
Not Just a Brawl on Ice…
Football, baseball, and basketball have always been quite popular when it comes to the sports that are commonly followed. Lately, soccer has been thrown into the mix and so has hockey. Hockey is quite different from the other games though. Instead of playing on a field or court you play on an ice rink. Instead of a ball the target is a puck.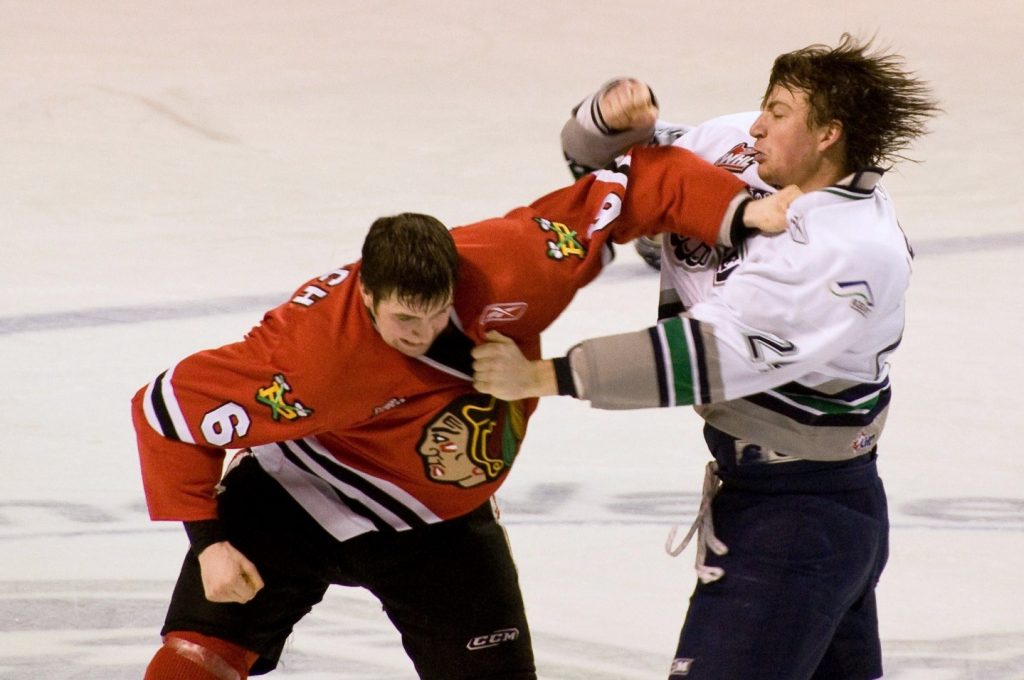 Like all sports, hockey takes skill but unlike other sports that skill does not come until after someone learns every aspect of the game. There can be natural talent for the game but most of the time it is discovered after working hard to achieve that talent. Hockey teaches kids the meaning of hard work at a young age.
Learning to pass, shoot, skate, etc. is not something that can be taught over night. It is taught over many days of intense practices. Taking time to learn the fundamentals is important to understanding the game. Kids have to learn how to balance on a metal blade, glide across ice without tumbling over themselves, and all the while hitting a puck with a hockey stick.
Hockey does not only offer kids the opportunity to work hard on the ice but it teaches them the meaning of a team. In order to be a team player you have to have your skills set in order to benefit your fellow members in a game. If you are slipping all over the ice and missing the shots you are not going to be helping your team.
It is your job as an individual to learn and hone in on the skills necessary to be on the ice. Every kid on the team is an important piece to the puzzle of the game. Hockey goes beyond the sliding on ice and smacking the puck into the net.
It teaches kids how to focus, how to be responsible, and how to dedicate themselves to something they have a passion for. There are many kids that get involved with a sport just because or a parent is pushing them to do it. The only way to truly grasp the knowledge of a sport and fully commit to it is by putting your all into it.
Those skills go beyond the ice and they leak into the lives of the kids. They take focus, responsibility, and dedication into their school work, their growing relationships, and their progression into the adult world. Sports are an important part of a kids' life and it is not for the title of "jock" but for the title of "maturity."…
Read more